The Secret You Don't Know About 'The Voice' Red Swivel Chairs
Paulette Cohn
Originally Published: March 6, 2023 8:53 p.m.
Chance the Rapper reveals the secret of 'The Voice' red swivel chairs.
It is Season 23 on The Voice, and it turns out there are still secrets to be revealed about the singing competition. Did you ever wonder when coaches like Gwen Stefani, Camila Cabello or Ariana Grande wore skimpy outfits how they stayed warm?
Well, this season's new coach Chance the Rapper revealed the answer on Today this morning.
"I'm the leak," he said. "Basically, the famous red spinning chairs have a heating setting underneath to get yourself warm. There's a cool setting, too."
Then Carson Daly joked, "It's because of Blake Shelton. He's so old now, he needs temperature control."
The new season of The Voice premieres tonight with Shelton marking his final season, the return of Kelly Clarkson after a one-season absence, and new coaches Chance the Rapper and Niall Horan.
"I felt the other coaches were so welcoming," Chance told Carson and Samantha Guthrie, who returned to Today after being out several days after testing positive for COVID-19.
Related: Watch The Voice's First 4-Chair Turn of Season 23 As Chance the Rapper Blocks Blake Shelton!
As for why he decided to join The Voice, he says, "My main goal being on the show is to help the artists bring themselves out with their performances. I want to give people the opportunity to tell their identity, their story through song. It's not so much turning them into an artist but giving them a platform to be themselves and sing the songs that they grew up listening to and really present themselves fully."
Chance will also have new music coming out next year, Star Line Gallery, and it will be a collaboration with artists of all disciplines.
"I started it when I first traveled to Ghana last year and I started connecting with some of the top contemporary artists, painters, sculptors, all types of visual artists in the world," he said. "We come together and create new pieces. As a recording artist, we make a bunch of songs, 12-16 songs, and then we find one artist to make a piece that represents the whole album. This gives me a better opportunity to give each song its own identity. This gives me a chance to be inspired by the artist from the inception of the idea."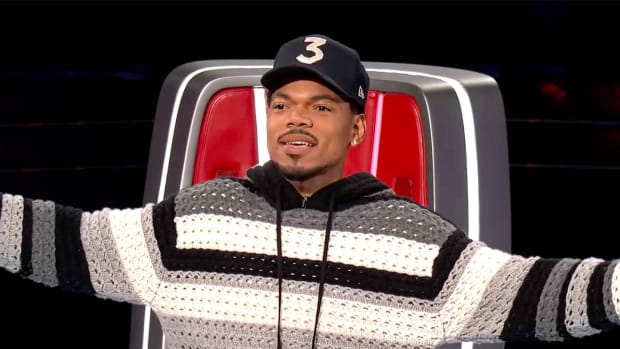 Chance also reiterated the story he had posted on social media about a recent flight he took from Los Angeles to New York and an encounter he and his oldest daughter Kensli had with Martin Short.
Related: Read Blake Shelton's Heartfelt Goodbye To The Voice
"I spent a month and a half out in L.A. doing The Voice and my oldest daughter Kensli came to visit me," he recalled. "When we got on the plane, I realized our seats were not together and before I could decide if I wanted to inconvenience anybody by asking, this very nice older dude gets up and says, 'She can have my seat.' And then I looked at his face and I whispered, 'Are you Martin Short?' and he nodded. It was so cool. He was a great dude. He didn't know who I was. That was the best part."
Kensli also knew who Short was. Not from his current hit TV series Only Murder in the Building, but she's a fan of The Santa Clause 3: The Escape Clause and knows him as Jack Frost.
The Voice premieres its 23rd season tonight at 8 p.m. ET/PT on NBC.
Next, Here's What We Know About The Voice Season 23, Including the Mega Mentor and Changes