Bebe Rexha Gets Drenched With Green Slime At Kid's Choice Awards
Devon Forward
Originally Published: March 6, 2023 8:01 p.m.
The singer had the ultimate reaction to the surprise slime.
Bebe Rexha got the full experience of the Nickelodeon Kids' Choice Awards, getting slimed right as she finished her performance.
The star sang her international hit song, "I'm Good (Blue)," which she made with David Guetta, and once the final note played, slime shot out from in front of Rexha, covering both the singer and her dancers.
The official NickRewind YouTube account shared a clip of the moment on its channel, showing Rexha's hilarious surprised reaction to the Kids' Choice Awards' trademark bright green slime.
View the original article to see embedded media.
Rexha was a good sport about it, posting about getting slimed on her Instagram, captioning the post, "kids choice awards before and after.."
The Instagram post shows a photo of the star in her red carpet look, a video of her getting slimed, and a still photo of the iconic moment.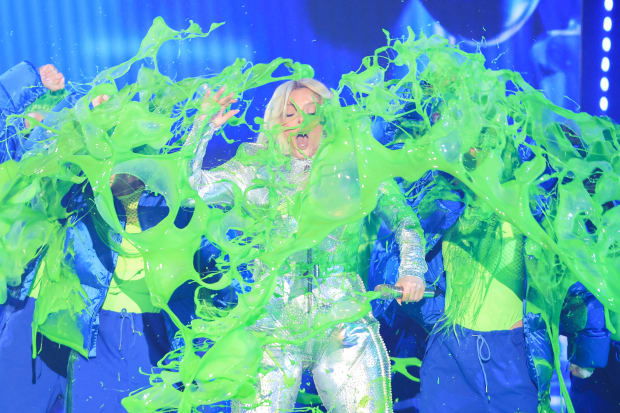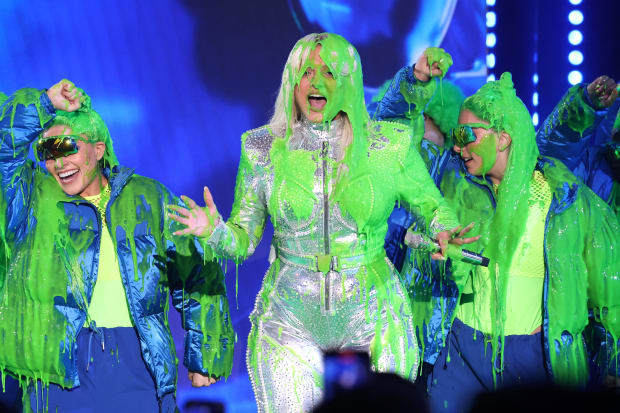 While Rexha looked completely shocked to be getting slimed, one of her dancers seemed to enjoy it, wearing a big smile across their face.
Katy Perry commented on Rexha's Instagram post, writing, "they were kind to you sis," while the official Kids' Choice Awards Instagram account wrote, "green is definitely your color 😊💚."
The singer's fans appreciated Rexha's genuine reaction, with one writing, "Your reaction was 10/10 🤣😭."
Another joked, "I'm Good (Green) - David Guetta & Bebe Rexha OUT NOW."
Entertainment Tonight host and producer Deidre Behar complimented Rexha, writing, "The way you handled that slime on your flawless jumpsuit 👏👏👏👏👏👏 Love u, queen! We cannot WAIT for the album ❤️."
At the end of February, Rexha released a new single called "Heart Wants What It Wants," featuring a music video greatly inspired by the '70s.
The singer-songwriter also announced a U.S. tour starting at the end of May 2023, so fans can expect some news on her highly-anticipated new album's release soon.
As far as her Kids' Choice Awards appearance goes, it seems like Rexha's experience of getting slimed only made her fans love her more!