State Senate Earmarks $50m To Help Cities, Counties With Homeless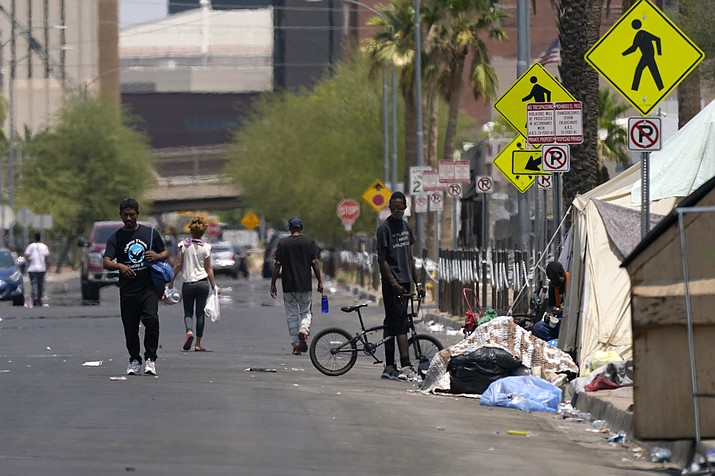 Pedestrians walk along the street next to a homeless encampment as temperatures continued to soar past 115-degrees Thursday, June 17, 2021, in Phoenix. (Ross D. Franklin/AP)
PHOENIX — A Senate panel voted Tuesday to provide $50 million to help cities and counties deal with the homeless.
But the cash in SB 1581 comes with a string that could end up forcing communities who want a share of the cash to arrest and lock up some people now living on the streets.
Sen. David Livingston, R-Peoria, told members of the Appropriations Committee that what's behind the measure is creating centralized locations where the homeless can camp. He said that ensures they can get not just a safe place to clean up and stow their belongings but also get services they need.
Cities and counties that seek their share of the available federal funds would have to agree to a set of conditions, ranging from providing sanitary facilities, potable water and on-site security to establishing safety rules.
What is causing some concern, however, is that the ability of local governments to get $30 million of that cash -- the rest earmarked for nonprofit organizations -- is contingent on them having ordinances that prohibit sleeping and camping in public places that are not designated as "sanctioned camping sites.'' More to the point, the city or county would have to enforce those ordinances.
"The strings attached to this money come at a too high cost and will only serve to exacerbate the current factors that drive people into poverty and homelessness,'' said Hugo Polanco, lobbyist for Wildfire. That organization, successor to the Arizona Community Action Association, focuses on issues of poverty.
But this is about more than just philosophy.
The 9th Circuit Court of Appeals ruled in 2019 that people who are homeless cannot be punished for sleeping outside on public property unless the community also offers adequate alternatives.
And no one who testified Tuesday contends that there are alternatives in most communities. In fact, proponents said that the tent centers that the legislation would encourage are designed to account for that lack.
Despite that, only Sen. Raquel Teran, D-Phoenix, voted against the measure. She said that 2019 ruling voiding an ordinance out of Boise, Idaho makes the measure not just illegal but unworkable.
Those arguments, however, did not sway others, albeit for vastly different reasons.
Sen. Lela Alston, D-Phoenix, said she is relying on promises by proponents to find ways to deal with the legal issues before the measure goes to the full Senate.
But Sen. Sonny Borrelli, R-Lake Havasu City, had a different take.
He told colleagues he sees nothing wrong with arresting those who are sleeping on the street. And Borrelli said he actually sees some benefit from such a move, noting figures that show that nearly 600 homeless people died on the streets of Phoenix alone in the last year.
"I'd rather have somebody do a night in jail, get cleaned up and a hot meal than end up in a body bag,'' he said.
And Sen. David Gowan, R-Sierra Vista, seemed ready to take on the legal system.
He acknowledged that the 9th Circuit ruling is binding on Arizona and other Western states. But Gowan said there has yet to be a ruling by the U.S. Supreme Court on the issue.
That's not exactly true: The justices refused to consider a bid by Boise to revisit the issue, leaving the 9th Circuit decision in place.
Wednesday's committee vote followed a parade of witnesses, many of them residents or owners of businesses in areas where the homeless have taken up residence on the streets.
"There are days when I can't access my business,'' complained Angela Ojile. And she told lawmakers that efforts to sell or even lease her property are stymied by the situation.
Ojile said she welcomes something more comprehensive.
"We feel like it's been Band-Aided so far,'' she said.
Caroline Lobo who lives in the Sunnyslope area of Phoenix had her own story.
"Kids can't walk to school because they come across needles and feces on the street,'' she said.
Joan Serviss, executive director of the Arizona Housing Coalition, cautioned lawmakers against approval of the measure, at least in its current form with the requirement of communities to enact and enforce laws against sleeping on the street. She said that could cause the U.S. Department of Housing and Urban Development, which is the source of the cash, could conclude the state is ignoring the law and withdraw the funding.
Fiscal issues aside, Serviss said she's not convinced that what is proposed is a good idea.
"As professionals working to advocate for affordable homes and an end to homelessness, we do not believe structured camping facilities, tent cities, safe parking lots are the best practice,'' she said.
"What does end someone's homelessness is housing,'' Serviss continued. "And the $30 million earmarked to cities to establish sanctioned camping sites and $20 million to nonprofits, could be far better invested into the State Housing Trust Fund to create permanent supportive housing and to keep people stabily housed through eviction prevention, housing case management and the like.''