'Mr. Firewise' Praised For Countless Volunteer Hours
Originally Published: August 25, 2014 6 a.m.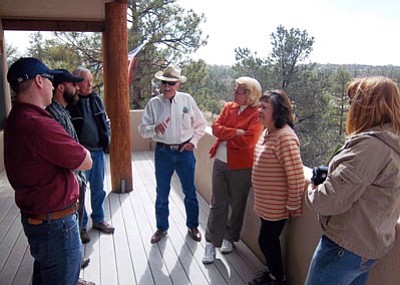 Glen Buettner, ASFD/Courtesy photo<br> Gary Roysdon, wearing his usual cowboy hat, talks to PAWUIC members about hazardous fuels mitigation during a field trip in March.
PRESCOTT - Gary Roysdon was a man on a mission to reduce wildfire danger in the Prescott region.
He figured out how make a direct impact, by volunteering an inordinate amount of time to the Prescott Area Wildland Urban Interface Commission (PAWUIC).
"This man did a minimum of 20 hours per week," PAWUIC Chair P.J. Cathey said.
"I'm sure there were weeks and months where he was working full-time for PAWUIC," former chair and fellow volunteer Everett Warnock added. "He would certainly qualify as 'Mr. Firewise of Prescott.'"
The dozens of PAWUIC community and government members were sad to learn that Roysdon died Aug. 12, a day after his 79th birthday.
Despite his age, Roysdon spent countless hours over the past decade helping Prescott become the number-one Firewise Community in the nation. A retired nuclear physicist and college professor, he repeatedly refused compensation.
With at least 26 subdivisions and communities earning an official Firewise designation from Firewise Communities USA, the Prescott area has the most Firewise designations in the country.
Roysdon was responsible for helping most of those communities gain that hard-earned designation, Warnock said.
"Gary was my mentor in Firewise," John Beddow wrote on Roysdon's online obituary. "His energy and personality was amazing. If it wasn't for him, Vista Del Cerro would not have become a Firewise Community and I'm sure this is the case of many other communities in the Prescott area."
Ponderosa Park subdivision resident Yvonne Brendecke had similar comments.
"Gary was selfless when it came to helping communities become Firewise and obtain grants for fire fuel mitigation," Brendecke wrote. "Gary was there for us (the Ponderosa Park Firewise Committee) every step of the way. He made numerous trips to Ponderosa Park for meetings and to walk us through becoming a Firewise Community."
One of the newest local Firewise Communities is Prescott Skyline. Resident Marty Zytkowski said Roysdon's expertise in paperwork and in the field were essential.
Several of his neighbors in the Highland Pines subdivision spoke of how he helped them make their homes defensible against wildfire.
He must have conducted hundreds of Firewise property assessments to help people figure out the steps they needed to take to make their homes defensible, Cathey said.
And he worked directly in the field with state prison crews that PAWUIC and Firewise Communities hired to clear out brush in larger common areas.
"Gary was always out in the field keeping up with the 20- and 30-year-olds creating the defensible space," observed Marcie Slay of the Yavapai County Emergency Management Division.
"He had so much enthusiasm and so much energy," Warnock said. "His enthusiasm just bubbled out."
Cathey noted that Roysdon also was skilled in writing grant applications, not only for brush clearing work but also for hundreds of thousands of dollars worth of heavy equipment to grind and chip overgrown brush that people removed from their properties.
PAWUIC has set up a special fund in Roysdon's name to replace old "Be Firewise" road signs throughout the region, since Roysdon was planning to seek donations for that cause. Send donations to PAWUIC, P.O. Box 11085, Prescott, Ariz. 86305.
Follow Joanna Dodder on Twitter @joannadodder